Beskrivelse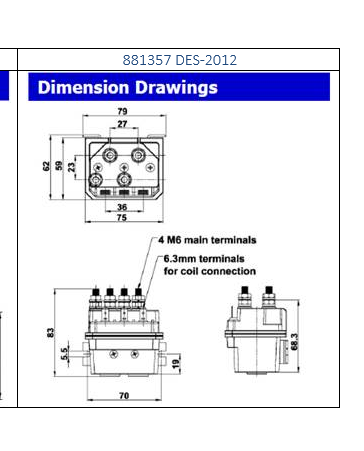 Universal Switching Contactor For DV-6/6S/6S carry on Series Winches by ComeUp®. Designed with precision and functionality in mind, this accessory ensures outstanding performance and easy use which makes it the perfect deal for your ultimate satisfaction. If you're looking for a quality product that will serve you for years to come, look no further. more details on.
• Sealed dual throw contactor designed to control forward and reverse functions on high current motors as used on winches
• Rated at IP66 per IEC60529 will withstand and operate while submerged
• Utilizing silver alloy contact material, for its ability to withstand heat and it's resistance to burning and welding
• Compact and light weight due to Mono-block construction
• Made to help make your off-road adventures safer
• Cutting-edge design for exceptional performance
• Premium grade materials to serve you for years
• Excellent combination of quality and functionality
ComeUp® is a family-run operation that has been making winches and related accessories for over forty years. Everything from winches and remote controls to hooks, bow shackles and straps, the company has an extensive line of top-grade products for all your towing needs. Dedicated to total customer satisfaction, ComeUp makes each and every product with utmost attention to detail to ensure it is second to none in reliability and performance. With a state-of-the-art manufacturing facility and unwavering commitment to innovative thinking, the company ensures that all towing solutions it offers maintain the highest standards of safety and quality. more details on.